I like to pole dance. Not like for money. Unless I mean if it's being offered maybe but for fitness. It's really a fun and HARD workout. After I did my first pole dancing class way back when I had a whole new respect for strippers. The amount of upper body strength required is ridiculous and the amount of bruises you will receive is crazy. I was sore in places unimaginable. o_O. Anywho, I love it and next friday one of my favorite Pole Dancing studios is having a Msaquerade themed girls night. I want to go but don't know if I will. It's only 15 bucks and includes a free drink, little snacks, and a chair and pole dancing classes. I've gone to one of these events like this before and it's so much fun! Some of these ladies actually come in lingerie. But if you've never been pole dancing, you should know, the less
clothes, the better. Especially on your legs. Oh and just say no to lotion.
My NSV this week is (speaking it into existence) finishing up Phase 1 of the Livefit Trainer. This is the first program where I have actually stuck to it for a month and I am not tired of it. I really like it. I will be doing a full review on phase 1 this weekend! Next week I start phase 2 and bring cardio back in the mix. I am nervous about that. I haven't done cardio since the end of april/beginning of May. Crazyness to me.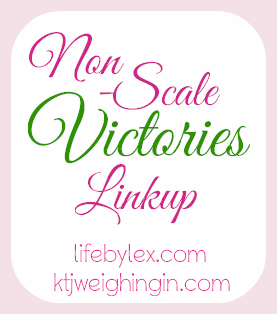 Things that I am thankful for this week:
Getting over 400 likes on facebook (Haven't liked my page?! Do it now & let me know so if you have a page I can like it back!!)

Chocolate protein bars that taste like brownies

Getting the possible opportunity to move up at my job. Had an interview yesterday. *crosses fingers*

Being an inspiration to others. Knowing that I am inspiring others helps keep me motivated.

Being able to lift a little bit more!

My new frens that follow my blog through GFC and Bloglovin'! Thank you all so much!
What are you thankful for?
What is your non scale victory this week?
Every been pole dancing? Thoughts / Opinions on it?
xoxo, the coily bombshell